Corporate
Installations
Commercial Properties
We are very proud to have waterproofed over 16,000 homes in Northeast Ohio. We also do Commercial Buildings as well, these are some examples of high profile Commercial customers that we have done work for.

We have waterproofed many Commercial buildings throughout Northeast Ohio.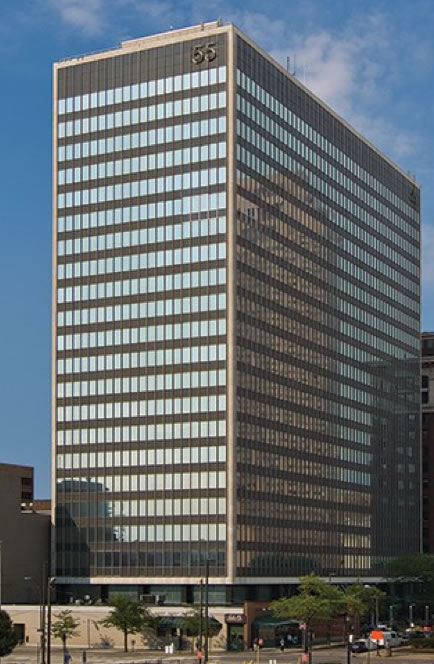 55 Public Square
(formerly known as the Illuminating Building, after the Illuminating Company, the building's primary tenant) is a 22-story skyscraper located at number 55 Public Square, the town square of downtown Cleveland, OH. It is 300 feet (91 m) tall, was completed in 1958, and was the first new skyscraper built in Cleveland since the Terminal Tower complex was completed in 1930. It was also the first tall International Style building in the city and the first to use a reinforced concrete frame.
We did work in this building in the mid 1990's
The basement of this building was quite a complicated situation. With limited access to storm sewer connections and a fully operational printing company open for business during our installation. We can certainly overcome any day to day obstacles that may arise.
Click here
to learn more about this building.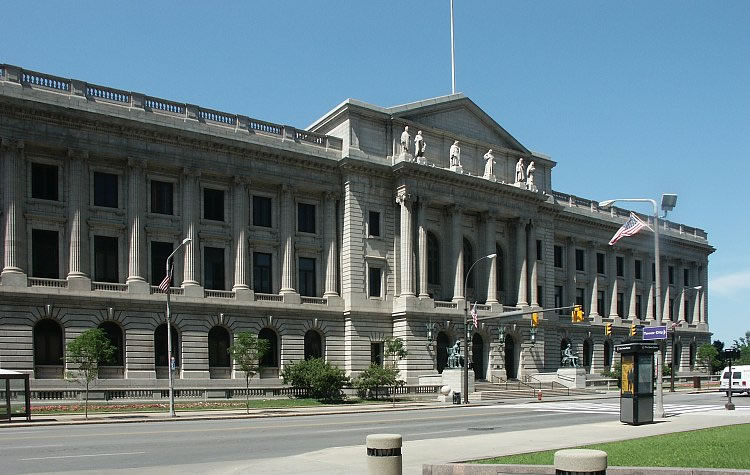 The Cuyahoga County Courthouse stretches along Lakeside Blvd. at the north end of the Cleveland Mall in downtown Cleveland, Ohio. It is one of several Beaux Arts style buildings built as part of the Cleveland Group Plan of 1903, The building was constructed from 1906-1912 by the architectural firm of Lehman & Schmitt.

We did work in this building in the late 1990's

Click here to learn more about this building.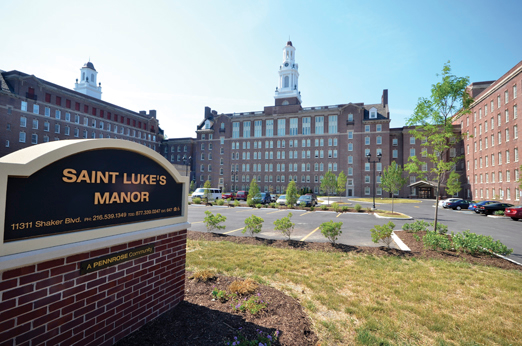 St. Luke's Hospital is a historic former hospital at 11311 Shaker Boulevard in Cleveland, Ohio. It is the landmark structure anchoring a 20 acre neighborhood revitalization effort ("The Buckeye Neighborhood Plan"), which also includes a new public library, elementary school, market rate attached and detached single family homes, and a soon-to-be renovated RTA Rapid Transit (summer of 2016). Saint Luke's is a LEED Gold certified building within a Leadership in Energy and Environmental Design certified master plan, and a model for community development.

Mistick Construction rehabilitated Saint Luke's Hospital, a National Historic Register building, converting it into affordable senior living apartments. Saint Luke's Manor is located near Shaker Square and is easily accessible to downtown Cleveland, shopping, dining and entertainment.

This project received the 2012 National Trust/HUD Secretary's Award for Excellence in Historic Preservation and was the Reader's Choice Winner for Historic Rehab in Affordable Housing Finance magazine.

B-Dry® System Cleveland was hired for waterproofing on both Phase 2 and Phase 3. We thank Mistick Construction for the opportunity to work on this project.

Click here to learn more about this building.
Other Notable Commercial Clients
TRW Headquarters (Richmond & Cedar)
Associated Estates
Progressive Insurance
Lubrizol
Hawkins School
Diamond Shamrock
Tanglewood Country Club
Silvermans
Sherwin Williams
First Federal Savings and Loan
Elks
Forest City Enterprises
Salvation Army
Red Roof Inn
Tri C
Wisco Industries
Figgie International
Acacia on the Green
National City Bank
Cleveland Housing Network
Necc
Enterprise Rent a Car
WERE Radio
Pat Catans
Union Miles Development
Pier One Imports